HISTORY OCTOBER 2016
October – Aviation History
28 October 1957
The first production Boeing 707 jet-powered commercial airliner, serial number 17586 (Line Number 1), was rolled out at the Boeing aircraft assembly plant at Renton, Washington. The Model 707 was developed from the earlier Model 367–80, the "Dash Eighty," prototype for an air-refueling tanker which would become the KC-135 Stratotanker.
The new airliner had been sold to Pan American World Airways, the launch customer, as part of an order for twenty 707s in October 1955. The Federal Aviation Agency (FAA) assigned N708PA as its registration mark.
N708PA made its first flight 20 December 1957 and was initially used for flight testing. Once this was completed, the new jet airliner was prepared for commercial service and delivered to Pan American at San Francisco International Airport (SFO), 30 November 1958. It was named Clipper Constitution.
In February 1965, the airliner was upgraded to 707-121B standards, which replaced the original turbojet engines with quieter, more efficient Pratt & Whitney JT3D-1 turbofan engines which produced 17,000 pounds of thrust. The wing inboard leading edges were modified to the design of the Model 720 and there was a longer horizontal tail plane.
Clipper Constitution flew for Pan Am for nearly 8 years, until 17 September 1965, when it crashed into Chances Peak, a 3,002 foot (915 meters) active stratovolcano on the Caribbean island of Montserrat. The point impact was 242 feet (74 meters) below the summit. All aboard, a crew of 9 and 21 passengers, were killed.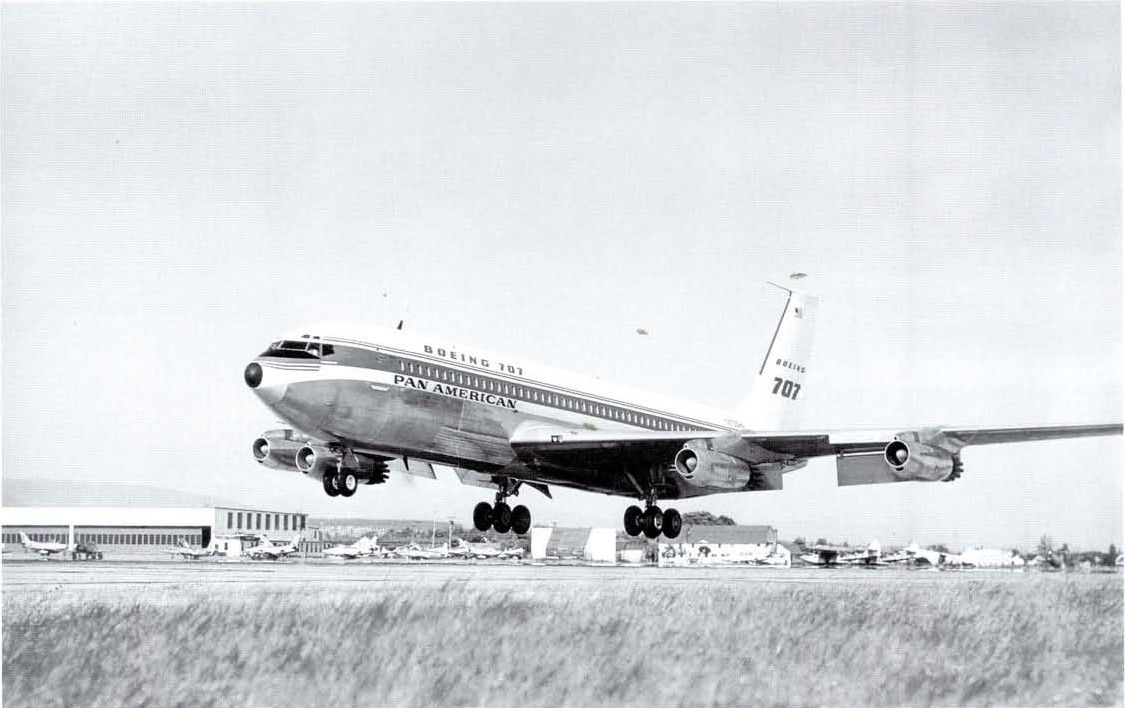 The Boeing Model 707-121 was a four-engine jet transport with swept wings and tail surfaces. The leading edge of the wings were swept at a 35° angle. The airliner had a flight crew of four: pilot, co-pilot, navigator and flight engineer.
The 707-121 was 145 feet, 1 inch (44.221 meters) long with a wing span of 130 feet, 10 inches (39.878 meters). The top of the vertical fin stood 42 feet, 5 inches (12.929 meters) high. The 707 pre-dated the "wide-body" airliners, having a fuselage width of 12 feet, 4 inches (3.759 meters).
The first versions were powered by four Pratt & Whitney JT3C-6 turbojet engines, producing 11,200 pounds of thrust (49,820 kilonewtons), and 13,500 pounds (60.051 kilonewtons) with water injection. The airliner's empty weight is 122,533 pounds (55,580 kilograms). Maximum take off weight is 257,000 pounds (116,573 kilograms). At MTOW, the 707 required 11,000 feet (3,352.8 meters) of runway to take off. The 707-121 had a maximum speed is 540 knots (1,000 kilometers per hour). It's range was 2,800 nautical miles (5,185.6 kilometers).
The Boeing 707 was in production from 1958 to 1979. 1,010 were built. Production of 707 airframes continued at Renton until the final one was completed in April 1991. As of 2011, 43 707s were still in service.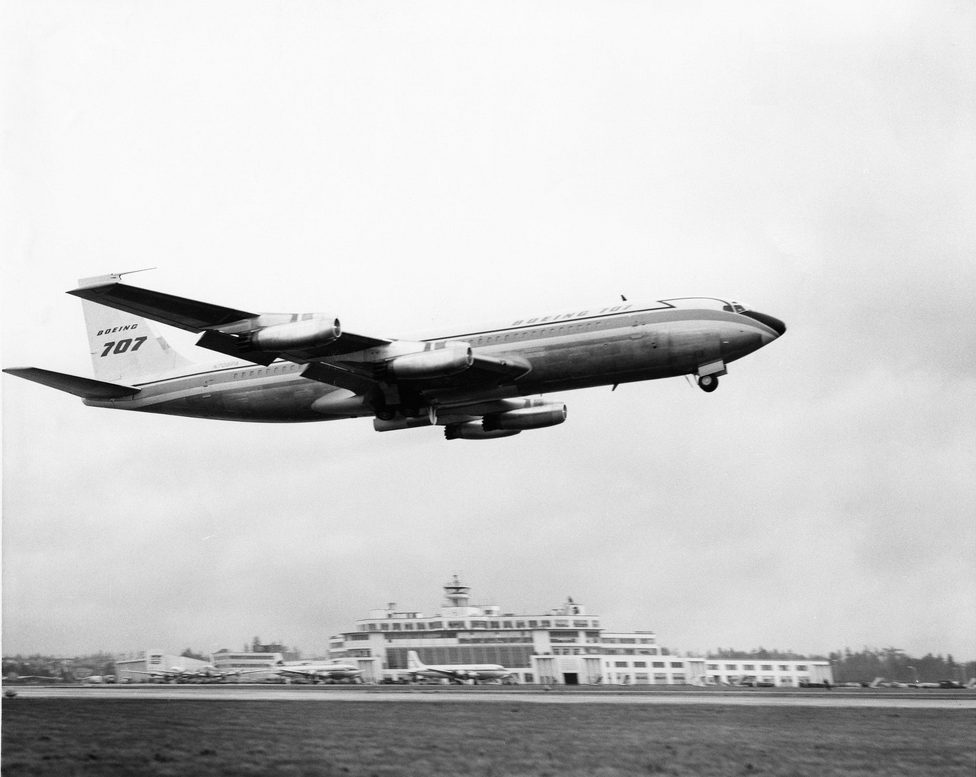 18 October 1909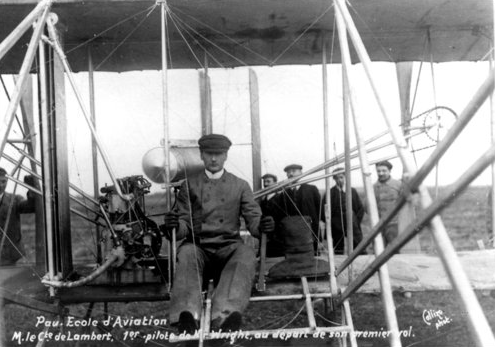 Charles Alexandre Maurice Joseph Marie Jules Stanislas Jacques Count de Lambert, the first student to successfully complete Wilbur Wright's aviation school at Pau, Pyrénées-Atlantiques, flew his Wright Model A Flyer from Port Aviation (Juvisy-sur-Orge), Viry-Châtillon (in the outskirts of Paris), the World's first airport, to the Eiffel Tower.
The Comte de Lambert departed Port Aviation at 4:36 p.m. He circled the Tower at an altitude of 400 meters (about 1,300 feet) and then returned to Pau, located on the northern edge of the Pyrenees.
The flight covered approximately 48 kilometers (30 miles) with an elapsed time of 49 minutes, 39 seconds.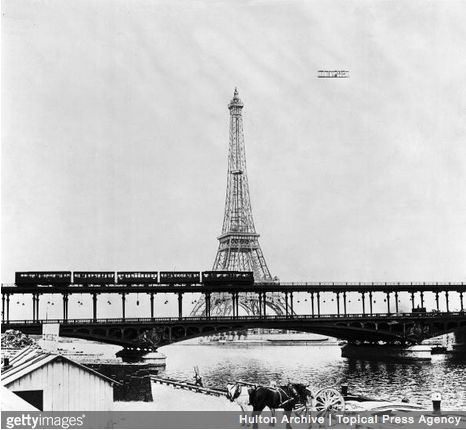 "Comte de Lambert's flight coincided with an evening banquet celebrating a two-week "Grande Quinzaine de l'Aviation de Paris". L'Aéroclub de France awarded him a Gold Medal for his achievement, and France appointed him Chevalier de la Légion d'Honneur.
The Wright Model A, produced from 1907 to 1909, was the world's first series production airplane. It was slightly larger and heavier than the Wright Flyer III which had preceded it. It was a two-place, single-engine canard biplane built of a wooden framework braced with wires and covered with muslin fabric. A new system of flight controls allowed the pilot to sit upright rather than lying prone on the lower wing.
The dual horizontal elevators were placed forward and the dual vertical rudders aft. The biplane was 31 feet (9.449 meters) long with a wingspan of 41 feet (12.497 meters). The wings had a chord of 6.6 feet, and vertical separation of 6 feet.
The airplane had an empty weight of approximately 800 pounds (363 kilograms).
A water-cooled 240.5 cubic-inch-displacement (3.940 liter) Wright inline four-cylinder gasoline engine produced 32 horsepower at 1,310 r.p.m. Two 8½ foot (2.591 meters) diameter, two-bladed, counter-rotating propellers, driven by a chain drive, are mounted behind the wings in pusher configuration. They turned 445 r.p.m.
The Wright Model A  could fly 37 miles per hour (kilometers per hour).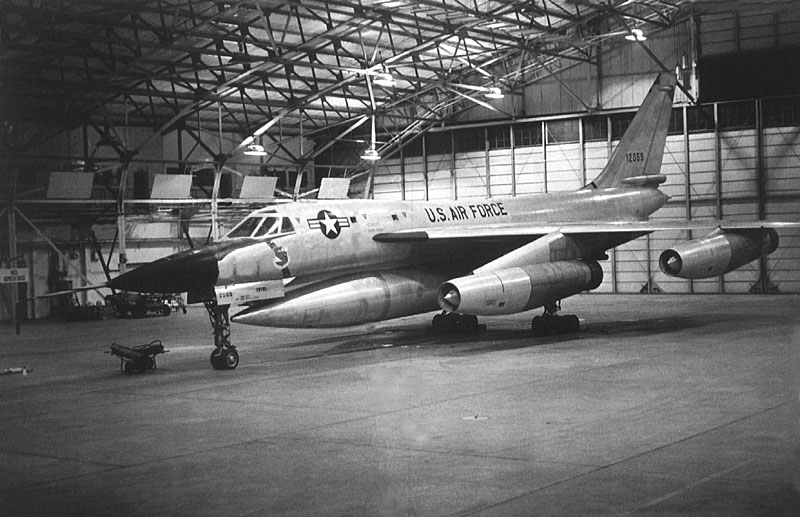 16 October 1963
Known as Operation Greased Lightning, Major Sidney J. Kubesch, Major John Barrett and Captain Gerard Williamson flew from Tokyo, Japan, to London England, non-stop, in 8 hours, 35 minutes, 20.4 seconds. Their airplane was a Convair B-58A-20-CF Hustler, serial number 61-2059, named Greased Lightning. It was assigned to the 305th Bombardment Wing, 19th Air Division, at Bunker Hill Air Force Base, Indiana.
Five inflight refuelings were required to complete the flight. The bomber had to slow from its supersonic cruise to rendezvous with the tankers. The B-58's average speed was 692.71 miles per hour (1,114.81 kilometers per hour). The speed from Tokyo to Anchorage, Alaska was 3 hours, 9 minutes, 42 seconds at an average 1,093.4 miles per hour (1,759.7 kilometers per hour); and speed from Anchorage to London, 5 hours, 24 minutes, 54 seconds at 826.9 miles per hour (1.330.8 kilometers per hour).
Greased Lightning's speed record still stands.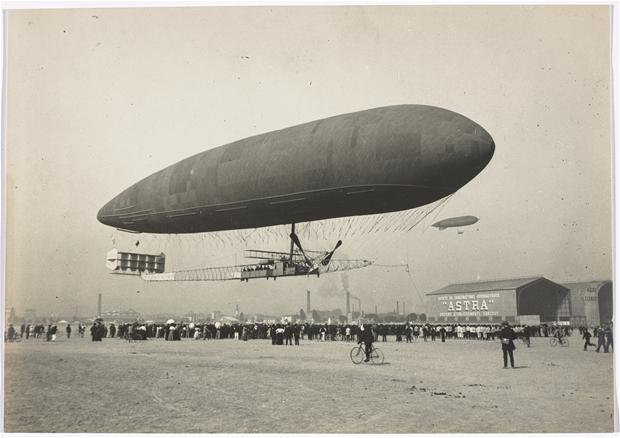 16 October 1910
Maurice Clément-Bayard flew the dirigible, Clément-Bayard No. 2, from the Astra Clément-Bayard airship hangar at La Motte-Breuil, France, to Wormwood Scrubs, England, with six passengers. This was the first crossing of the English Channel by airship. The 244 mile (393 kilometer) distance was covered in less than six hours.
The airship had been built for the Armée de Terre (the French Army), but because of the very high price, ₣200,000, it was not accepted. It was then sold to the British War Office for ₤18,000, more than twice the price the builders had offered to the French government. The British newspaper, The Daily Mail, contributed the cost of building an airship hangar.
After arriving in England, Clément-Bayard No. 2 was deflated for transport to another location. The airship was damaged in transit and was never repaired.
Clément-Bayard No. 2 was  76.5 meters (251 feet) long, with a diameter of 13.2 meters (43 feet). The dirigible had a volume of 6,500 cubic meters (229,545 cubic feet). It was powered by two water-cooled, normally-aspirated, 1,590.75-cubic-inch-dispalcement (26.068 liters) Clément-Bayard four-cylinder overhead cam engines, which produced 120 horsepower, each. These turned two, two-bladed, fixed-pitch laminated wood propellers with a diameter of 6 meters (19 feet, 8 inches) at 350 r.p.m.
13 October 1922
Air races were a extremely popular event in the early days of aviation. An estimated 200,000 spectators watched the opening race at the National Air Races, held at Selfridge Field (now, the Selfridge Air National Guard Base) near Mount Clemens, Michigan, from 8 to 14 October.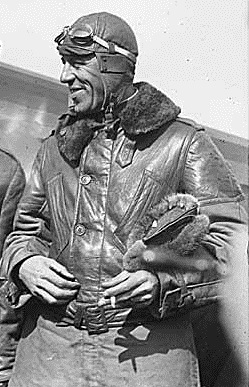 First Lieutenant Theodore Joseph Koenig (U.S. Army, photo to the right), Air Service, United States Army, won the Liberty Engine Builders' Trophy Race, a race for observation-type aircraft powered by the Liberty 12 engine. This race was Event No. 4, on Friday, October 13.
Koenig completed ten laps of the triangular racecourse in 2:00:01.54, at an average speed of 128.8 miles per hour (207.3 kilometers per hour).
In addition to a trophy, cash prizes were awarded to the competitors for first, second and third place finishes. First place received $1,200.00; second place, $600.00; third place, $200.00.
Koenig flew the same Packard Lepère LUSAC 11 biplane, A.S. 40015, that had been flown by Lieutenant John A. Macready to set altitude record of 40,800 feet (12,192 meters), 28 September 1921.
"Lieutenant Koenig varied not more than two miles an hour in any lap from his average speed for the ten laps. The first three laps he made at 130 miles an hour, the next five at 129 miles, the next five at 128 miles and the last lap at 129 miles an hour. On the last leg of his last lap, while he was over Lake St. Clair, his air pressure feed, which forces gasoline to the carburetor from the tanks went wrong and he was compelled to resort to an emergency gas tank for fuel."
—Aerial Age, Vol. 15, No. 20, November 1922, at Page 535.
Of the nine racers, six completed the race. Major Follet Bradley placed second in his DH.4B with an average speed of 126.4 miles per hour (203.4 kilometers per hour). Third place went to Lt. William L. Boyd, who also flew a DH-4B. "He flew a perfect race, averaging 122 miles an hour in every one of the ten laps. Army men said this was a remarkable achievement."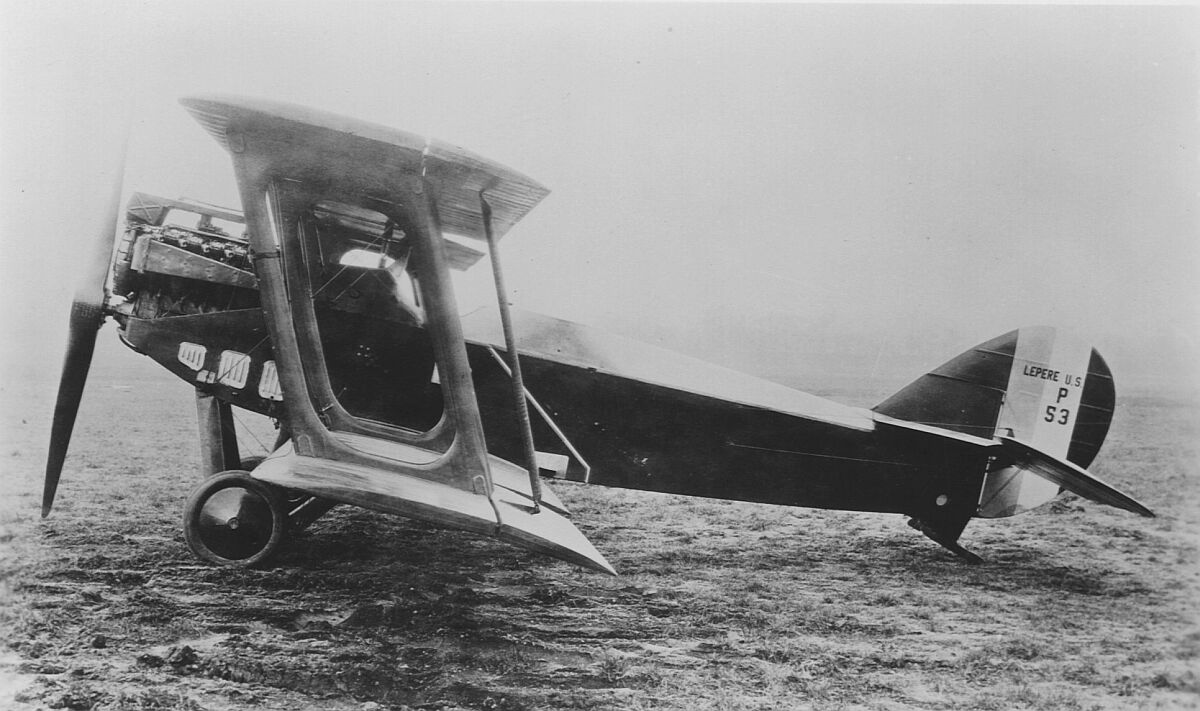 The Lepère Two-Seater Fighter (Packard Lepère LUSAC 11*) was a single-engine, two-place biplane fighter which was designed by the French aeronautical engineer, CapitaineGeorges Lepère, who had previously designed the Section Technique de l'AeronautiqueDorand AR.1 reconnaissance airplane for France's military air service. The new airplane was built in the United States by the Packard Motor Car Company of Detroit, Michigan. It was a two-place fighter, or chasseur, light bomber, and observation aircraft, and was armed with four machine guns.
The LUSAC 11 was 25 feet, 3-1/8 inches (7.699 meters) long. The upper and lower wings had an equal span of 41 feet, 7¼ inches (12.681 meters), and equal chord of 5 feet, 5¾ inches (1.670 meters). The vertical gap between the wings was 5 feet, 1/8-inch (1.527 meters) and the lower wing was staggered 2 feet, 15/16-inch (0.633 meters) behind the upper wing. The wings' incidence was +1°. Upper and lower wings were equipped with ailerons, and had no sweep or dihedral. The height of the Packard Lepère, sitting on its landing gear, was 9 feet, 7 inches (2.921 meters).
The fuselage was a wooden structure with a rectangular cross section. It was covered with three layers of veneer, (2 mahogany, 1 white wood) with a total thickness of 3/32-inch (2.38 millimeters). The fuselage had a maximum width of 2 feet, 10 inches (0.864 meters) and maximum depth of 4 feet, 0 inches (1.219 meters).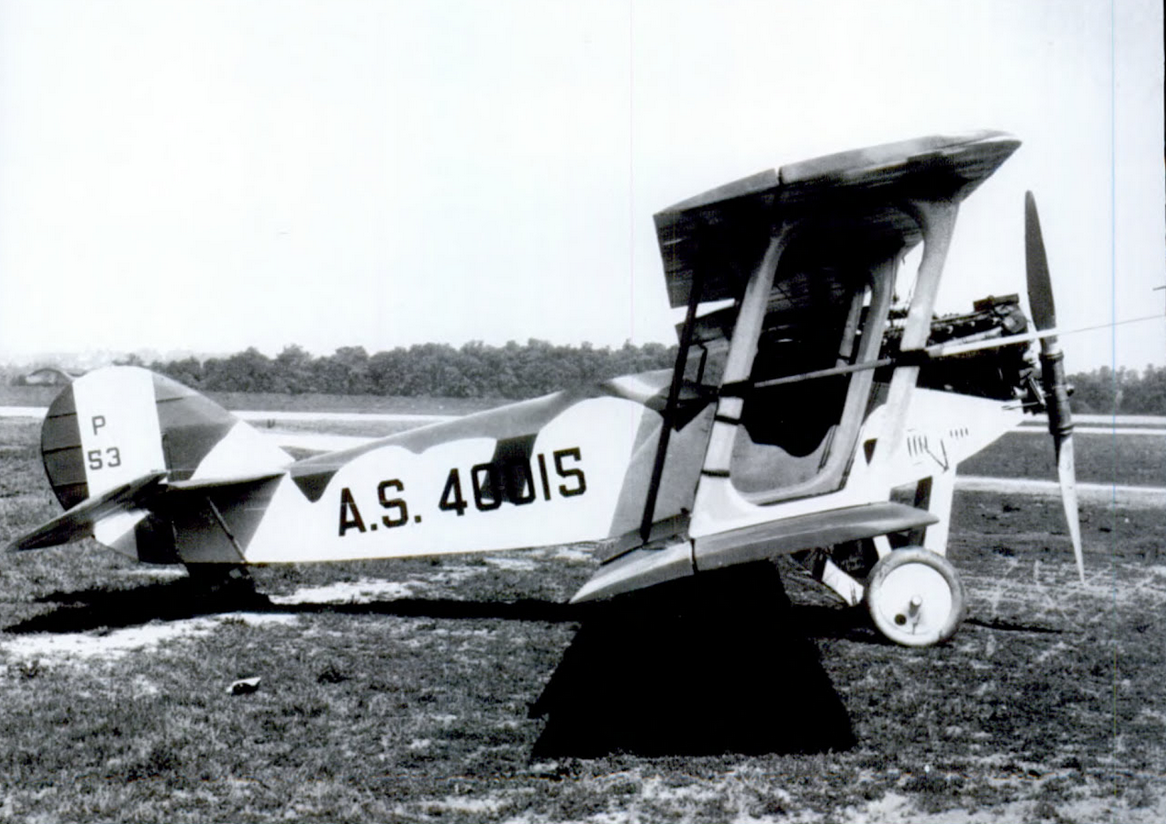 The wings were also of wooden construction, with two spruce spars and spruce ribs. Three layers of wood veneer covered the upper surfaces.
The Packard Lepère had an empty weight of 2,561.5 pounds (1,161.9 kilograms) and its gross weight was 3,746.0 pounds (1,699.2 kilograms).
The Packard Lepère was powered by a water-cooled, normally-aspirated, 1,649.34-cubic-inch-displacement (27.028 liter) Packard-built Liberty 12 single overhead cam (SOHC) 45° V-12 engine, which produced 408 horsepower at 1,800 r.p.m., and drove a two-bladed, fixed-pitch propeller with a diameter of 9 feet, 10 inches (2.997 meters). The Liberty 12 was 67.375 inches (1.711 meters) long, 27.0 inches (0.686 meters) wide, and 41.5 inches (1.054 meters) high. It weighed 844 pounds (383 kilograms).
The engine coolant radiator was positioned horizontally in the center section of the airplane's upper wing. Water flowed through the radiator at a rate of 80 gallons (303 liters) per minute.
7 October 1919
Koninklijke Luchtvaart Maatschappij N.V., operating under the name KLM Royal Dutch Airlines, was founded on 7 October 1919 by Albert Plesman, making it the oldest carrier in the world still operating under its original name, though the company stopped operating during the Second World War—apart from the operations in the Dutch Antilles in the Caribbean.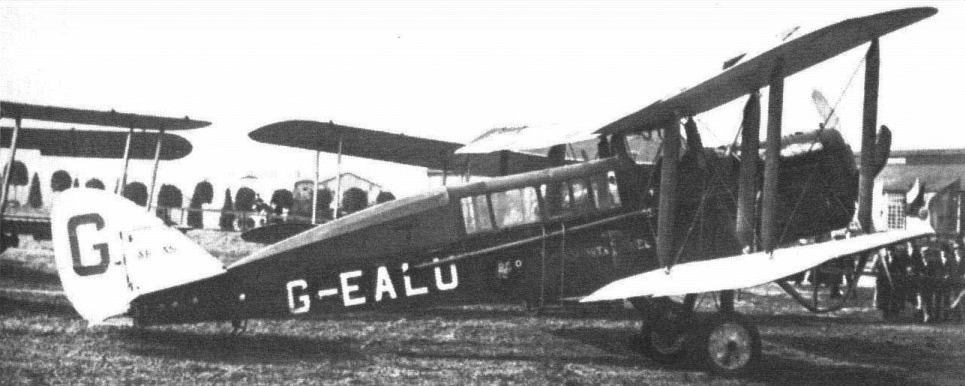 The first KLM flight took place on 17 May 1920, from Croydon Airport, London, to Amsterdam carrying two British journalists and a number of newspapers. It was flown by an Aircraft Transport and Travel Ltd. Airco DH.16, registration G-EALU, piloted by Jerry Shaw. This airplane, named Arras, was leased from Aircraft Transport and Travel Limited, a British company.
In 1920 KLM carried 440 passengers and 22 tons of freight and began scheduled services in 1921.
As of October 2016, KLM's fleet included 119 airliners, mostly Boeing aircraft. Another 22 airliners are on order. The airline has approximately 33,000 employees.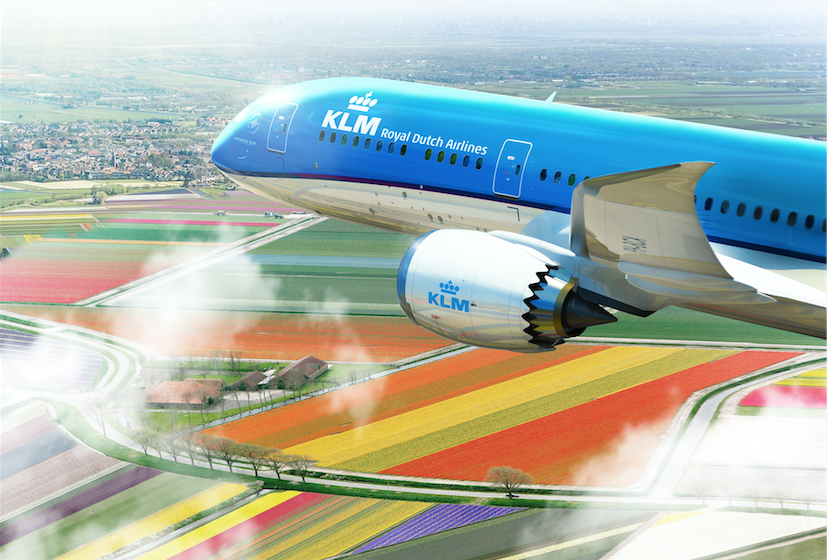 About Bryan Swopes